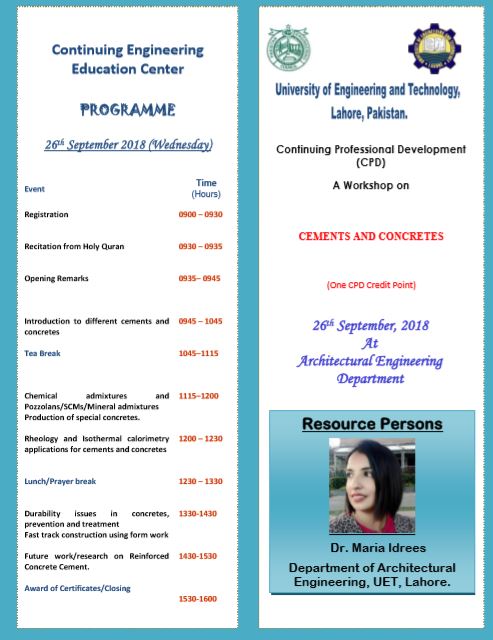 All working professionals including engineers require continuous updating their knowledge and skills to improve working competency and efficiency. University of Engineering and Technology Lahore has started Continuing Professional Development amongst its growing community of professional engineers having planned series of short courses and workshops in addition to many other academic and professional activities.
This workshop has been designed to enhance professional's knowledge about new trends in cements, concretes and construction. This will help the participants to produce durable concrete with lower maintenance and repair issues. The Civil, Transportation, Architectural Engineering graduates, Cement Manufacturers and Students can be benefitted in their professional field of work and Research.
|
The course contents will include:
Types of international cements
Strength gain in concrete.
Chemical admixtures and SCM/ Mineral admixture/ pozzolans
Producing concrete of desired characteristics (special concretes)
Durability issues: Controlling Corrosion, Alkali aggregate , sulphate attacks, Freezing n thawing and cracks issues
Concrete tests (Destructive , Non destructive)
Introduction of very fast track construction using
How to write research proposals to win grants.
SPECIAL FEATURE
A certificate of one CPD point will be awarded to the participants.
WHO SHOULD ATTEND?
1. Civil Engineer, Architectural Engineers, Architects, Transportation Engineers, Site engineers, Construction material researchers, cement manufacturers.
2. Full time Science and Engineering Students
COURSE DETAILS
Course Fee:
Rs. 3000 for working engineers/Scientists
Rs. 1500 for faculty
Rs. 1000 for students
Course Date: 26-09- 2018